Care your oil instead of just filtering it — for the maximum service life of oil, components and machine
CJC® Offline Filters: Your solution for absolutely clean and dry oils and fluids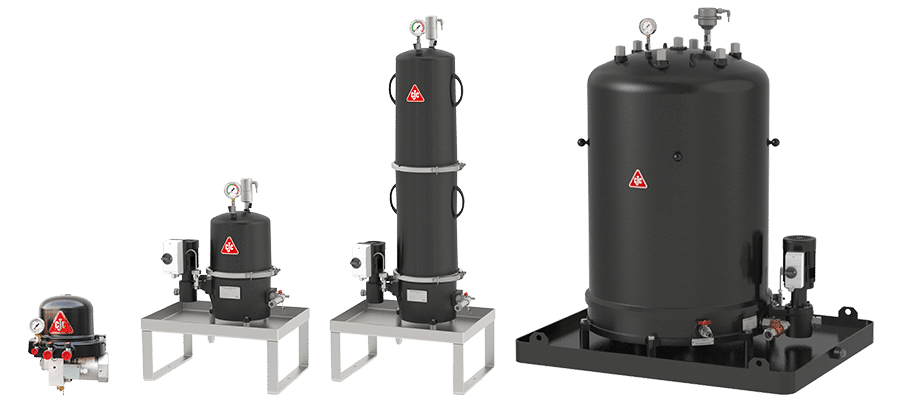 Offline Filters
CJC® Offline Filters clean, dry and maintain the oil or fluid in your machines quickly and cost-effectively. Whether hydraulics, gearboxes or thermal oil systems, whether mineral or synthetic base oils and whether how heavily loaded, the offline filter from CJC® is precisely configurable to the specific conditions of your machine and the impurities in your oil or fluid. Installed in the offline circuit, it ensures maximum oil cleanliness regardless of the operation of the machine. The filter removes solid particles, water, oxidation residues and acids effortlessly and permanently.
How you benefit from installing a CJC® Offline Filters on your machine
You achieve a maximum service life for your oils and fluids – so you protect budget and resources at the same time.

You ensure maximum wear protection and reduce maintenance effort and costs.

You minimize failures and ensure maximum reliability and availability of your machine(s).

You optimize productivity and processes and accelerate the return on investment.

You protect the cost-intensive inline filters, so they clog less frequently and require fewer filter changes.
Maximum oil and fluid cleanliness is the be-all and end-all for reliably functioning machines and resource-saving maintenance. It's that easy — watch our videos:
The advantages briefly explained
The offline filter in detail
The advantages briefly explained
The offline filter in detail
The advantages briefly explained
The offline filter in detail
Product Advantages — CJC® Offline Filters

Customized solutions
Perfectly adaptable to any machine and any oil or fluid. The CJC® Offline Filter is individually configurable, thanks to its modular design. Optionally with customer-specific sensors for integration into your condition monitoring system.

Maximum oil cleanliness
Highest oil purity and maximum wear protection. The CJC® Offline Filter removes all contaminants – regardless of operation, continuously and highly efficiently. For maximum service life of oil and components.

Economical & ecological
Depth filter made of 100% natural fibers — 0% plastic and 0% metals. High recording capacities and thus long filter life ensure the excellent price-performance ratio of the CJC® Offline Filters.

Easy installation & maintenance
Easy to install as an offline filter in an independent circuit. This also means changing filters without machine downtime. Low-maintenance, robust and durable, the CJC® Offline Filters also convince.
Areas of application — CJC® Offline Filters
Hydraulic oil (presses, test benches, cranes, etc.)

Lubricating oil (bearings, engines, compressors, etc.)

Gear oil (mobile earthmoving machines, wind turbines, etc.)

HFC fluids (water-glycol) and other aqueous fluids (die casting machines, deburring presses, etc.)

HFD fluids (phosphoric acid esters) and other flame retardant fluids (turbine control systems, etc.)

Hardening oil (open/closed hardening baths, hardening furnaces, etc.)

Thermal oil or heat transfer oil (e.B. food industry, cruise ships)
The integrated CJC® Depth Filter Inserts
Separation capacity:
Solid particles (wear and impurities)
Water – free and dissolved
Oil degradation products and oxidation residues (Varnish, oil sludge)
Acids
Type of filtration:
Depth filter with extremely high recording capacity
Inner surface:
120—150 m² per gram

The largest depth filter insert has an internal surface of > 2,066 ha = > 2,894 football fields
The smallest depth filter insert has an inner surface of > 5 ha = > 7 football fields
Due to the modular design, the number of various depth filter inserts and thus the holding capacity can be adapted to the individual dirt input.
Volume:
The largest depth filter insert has a volume of > 504 Litres
The smallest depth filter insert has a volume of > 1.5 Litres
Filtration degree:
3 µm absolute, retention rate down to 1 µm (Micrometer)
Filter material:
100% natural fibres – meets the requirements of the Circular Economy Act
For oils and fluids that tend to acidify very quickly, an additional filter material may be used, which increases neutralization against acids many times over.
Customer cases
Find out in our application studies how operators benefit from installing a CJC® Offline Filter.
Hydraulic oil care – Sand-lime brick press
2022-06-16T14:27:30+00:00
"I am completely satisfied with the investment. Oil drying takes place very quickly and without machine downtime. Thus, we keep the production stable, have time to look for the failure cause, avoid the oil change and waste oil disposal, and maintain the oil quality."
Read customer case
"I am pleasantly surprised how quickly the oil was cleaned. The service life of the in-tank filter has been extended significantly, and the maintenance effort has been reduced obviously. The result is so convincing that we decided to purchase a CJC offline filter for the forge as well."
Read customer case
"It is remarkable how clean the oil has become. We have already tried several filters, but only with the filters from CJC, we did achieve the desired oil purity. In the meantime, we have already retrofitted four systems in our production with CJC offline filters."

To application study forging press
"We are convinced […]. The oil is clean and clear […] otherwise there would have been huge damage of several thousand euros with enormous downtimes and production losses. […] impressed […], that the fine filtration of the oil has such an extreme impact on wear pattern. […] remaining five crushers were also equipped with CJC offline filters."
Read customer case
"The high quality of the die-cast parts relies on well-functioning production plants, which can be achieved only with proactive maintenance and, among other things, an absolutely clean operating medium (HFC fluid)."
Read customer case
"We were so convinced by the results that we equipped another drop forging hammer with a CJC offline filter."
"The comprehensive oil analyses of OELCHECK convinced us. They clearly show the continuous improvement of the oil quality – further gearboxes will be retrofitted with CJC filters."
Read customer case
"Having undertaken an assessment of our onsite lubrication activities, we introduced a program of offline filter installations as a proactive maintenance strategy across the site. This has allowed us to move from a situation where oil replacements were frequent to nearly no oil changes at all. CJC oil filters have been a huge help in this program."
Read customer case
"We are very satisfied with the CJC offline filter. The filter insert has to be replaced only once per year."
"Within just two hours, the oil in the gearboxes could be cleaned to such an cleanliness level that it was comparable to fresh oil."
Read customer case
"The perfect solution to help our oil-consumption-ratio concerns, now we can save on oil change and can increase our machine reliability."
Read customer case
"The CJC offline filters were installed because it is only possible to work continuously with clean oil due to the fine filtration, which is essential for the proper operation of all valves and components. It is also noteworthy that the oil service life and the oil change intervals have been extended. So we also achieved economic savings: reducing the waste oil amount and thus protecting the environment."
"The reason for installing the CJC offline filter system was not only the avoidance of failures and improved maintenance of the machines but above all the high savings in oil costs and the associated reduction in the amount of waste oil – an advantage for the environment. Due to the filtration with CJC, we can use the oil in the hydraulic system for up to 4 years."
"Since the start-up of all twelve plastic injection moulders machine-manufacturer-equipped with CJC offline filters, no breakdowns of hydraulic systems of any of the machines have been noted. At the same time, we have observed a prolonged lifetime of pumps and proportional valves."

Application Study – Fuel Casting Machines

[wpdm_package id="14477″]
"Installing the CJC offline filters is by far the best preventive maintenance measure we have ever undertaken […] We had no unforeseen failures due to resins or other contaminants in the valves. Cleaning the hydraulic tanks was also not necessary."

Application Study – Injection Moulding Machines

[wpdm_package id="14481″]
"Before the installation of the CJC Filters in all our injection moulders, we had to change the oil and the in-line filters very often, and still the system remained contaminated. We spent a lot of hours on maintenance of every engine because of the contamination, which we did not think was so important at that time. A short while after installing the CJC Filters, we noticed a reduction in the stoppages as the oil no longer was contaminated by particles, resins and water. It has been one of the best maintenance investments until today."

Application Study – Injection Moulding Machines

[wpdm_package id="14476″]
"We are very satisfied with the results after installing CJC Fine Filters on our hydraulic presses, and all new machines are immediately equipped with CJC Fine Filters."

Application Study – Hydraulic Presses

[wpdm_package id="14404″]
"Thanks to the CJC offline fine filters, the automatic lathe now works much more efficiently. The number of system failures and the associated costs have been reduced. Filtration with CJC is invaluable, even though we only use 60 litres of oil."

Application Study – Automatic Lathes

[wpdm_package id="14431″]
"Karberg und Hennemann has kept its promise regarding the performance of the CJC filter system. Through the multiple uses of our hydraulic oil, we significantly reduced running costs and expenses as well as storage volumes and the associated environmental risks."

Application Study – Machining Centers

[wpdm_package id="14429″]
"We were convinced of the result in a short time and can only recommend the CJC offline filter 27/27 with the CJC fine filter insert B to prevent wear at an early stage."

Application study – slitting line for sheet metal

[wpdm_package id="14537″]
"I no longer have any problems with dirt in the valves. The lifetime of the hydraulic pump and motor will undoubtedly be extended now that we are using the CJC fine filter. The results from the oil analyses are excellent."

Application Study – John Deere Traktor

[wpdm_package id="14440″]
"The hydraulic servo valves are no longer failing due to contaminants in the oil. We have made huge savings on the components and labour along with mill downtime relating to the servo valves on the bandsaw log carriage."

Application study – hydraulic power unit, sawmill

[wpdm_package id="14459″]
"Since installing the CJC Offline Filter we have never had to clean or do maintenance on the valves."

Application study – hydraulic power unit, sawmill

[wpdm_package id="14458″]
"After knowing CJC Filters and having installed them on our injection machines, we have got the suitable oil quality and reduced of yearly unplanned stoppages from 18 to 2 times. We are currently certain to work with oil in very good conditions and are suitable at all times for our facilities. The investment to install CJC Filters was a right decision and a pro-assets good maintenance tool."

Application Study – Die Casting Machine

[wpdm_package id="14535″]