Reduce the water content in the oil to < 100 ppm — within the shortest time
Desorber D30 from CJC®: Your solution for dewatering oils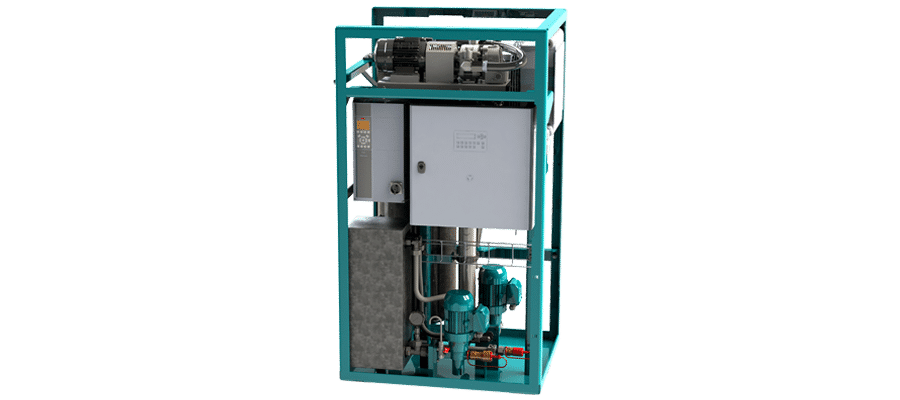 Desorber D30 – Reduce water content in oil
Desorbers D30 from CJC® minimize the water content in the oil within a very short time – whether hydraulic oil, gear oil, lubricating oil, processing oil, leakage oil or quenching oil, and whether mineral oil or synthetic fluids. Due to the installation in a separate off-line circuit or at a free-standing tank, oil dehumidification is carried out continuously and independently of the operation of your machine. The CJC® Desorber D30 removes free, emulsified and dissolved water and reduces the water content in the oil to < 100 ppm — even oils that poorly separate water and form stable emulsions. Oil dehumidification by desorption is also ideal for oils with high viscosity and air content. It does not affect the additive package.
Fact is,
water in oil harms the flowability and lubricating effect of the oil. In addition, water accelerates oil ageing processes and additive consumption. The oil acidifies, and sludge and resin-like deposits arise in the oil system and tank. Wear, corrosion, cavitation, and the increased risk of foam endanger the oil-lubricated components. Water is also the perfect basis for bacteria, yeasts and fungi that spread and make tank cleaning difficult (health protection). All these factors shorten the service life of oil, components and machine.
Since even dissolved water in the oil can be released due to temperature and pressure fluctuations and is then initially emulsified, i.e. finely distributed in the oil, it is best practice to keep oils and fluids as dry as possible. Emulsified water is the most harmful water-in-oil state, as it circulates with the oil and unfolds its negative influences everywhere in the oil system.
Water in the oil is the second most common cause of failures and disturbances in an oil system.
Application areas & installation example — Desorber D30
Especially in the paper, steel, plastics and metal processing industries, as well as in maritime applications, there is a high risk of water entry into the oil systems due to environmental and process conditions.

The pump in the oil inlet of the desorber D30 sucks in the oil. In the desorber chamber, the warm, moist oil meets a counterflow of cold, dry air. The oil heats the cold air, which allows it to absorb a lot of moisture from the oil (system pressure constantly low < 2 bar). In a subsequent process, the warm, moist air cools down again, and the water condenses.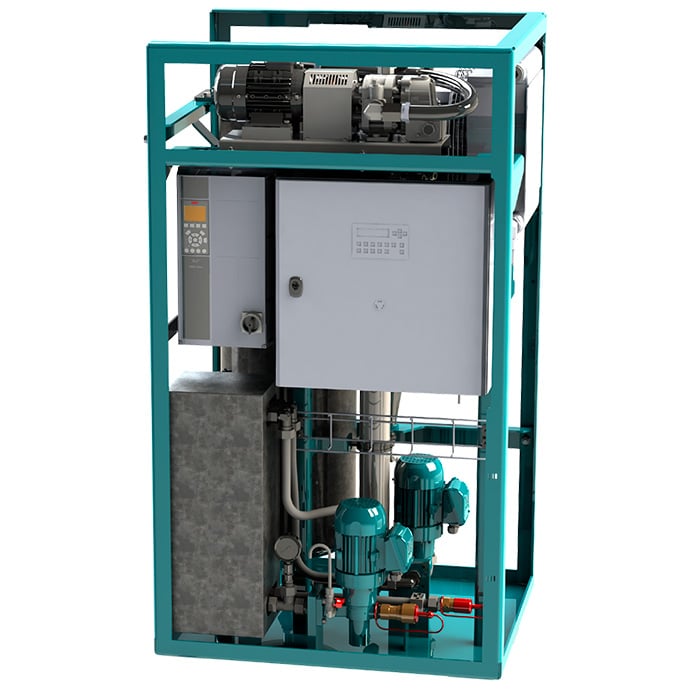 Oil volume, dimensioning e.g.: 5,000 Litres
Installation: flexible, e.g. in the off-line circuit or on a free-standing tank
Viscosity range: up to ISO VG 320
Water content in the oil, max.: 700,000 ppm (70%)
Water separation: water content permanently < 100 ppm (0.01%)
Supply voltage: 3 x 400/50—60 Hz or 3 x 440/480/575 V/60 Hz
Power consumption: 3.6 kW
Current: 13.5 A
Conveying capacity (24/7): 250 Litres per hour
System pressure (suction side), max.: 0.5 bar
Weight, ca: 318 kg
Dimensions, L x W x H: 900 x 740 x 1,650 mm
Equipment:
Standard:
Pump with motor
electrical control with an integrated alarm system
Leakage monitoring
Oil sampling point
automatic water separation
Optional:
Air, water or coolant cooling
Download product data sheet:
All sizes and variants — without and with depth filter


Write or call your regional contact person now
Let us start a conversation: about your machine, your oil, and the specific challenges. We reduce the water content in the oil, even with highly viscous oils and emulsions. Whether you use mineral oil or synthetic fluids.
Receive a personal consultation and a non-binding offer for a CJC® Desorber D30.
Write or call us.