Minimize the water content in the oil even with stable emulsions
Desorbers from CJC®: Your solution for fast oil dewatering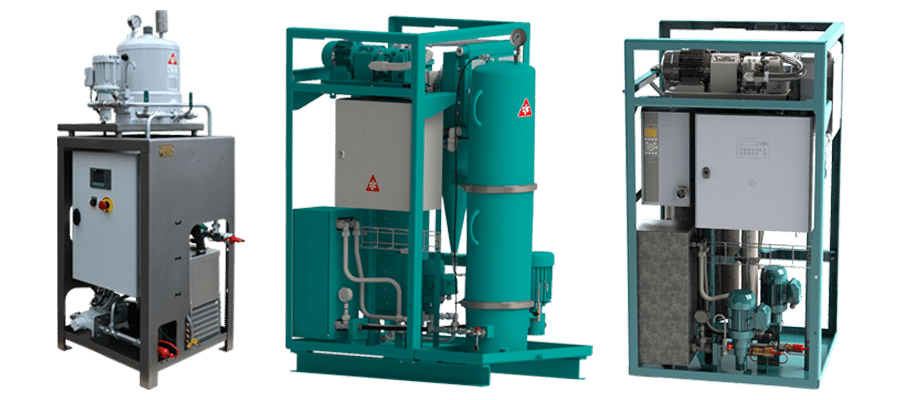 Desorber for oil dewatering
CJC® Desorbers dewater and dry the oil or fluid in your machines quickly and cost-effectively. Whether hydraulics, gearbox or lubricating oil system, whether mineral or synthetic base oils and no matter whether the water is free, dissolved or emulsified in the oil, the Desorber from CJC® removes the water from the oil or fluid of your machine independent from additives and viscosity. Installed in the offline circuit, it ensures oil dewatering independent from the operation of the machine — even stable emulsions and bio-oils with a water content of up to 70% (700,000 ppm) can be dried. Optionally combined with a fine filter system that removes solid particles, oxidation residues and acids, it ensures maximum oil cleanliness in addition to the oil dewatering.
How to benefit from installing a CJC® Desorber on your machine
You dry the oil down to < 0.01% even with a water content of 70% and stable emulsions

You prevent oil aging, additive degradation and the formation of acids and microorganisms

You protect machine components and seals from corrosion, cavitation and wear

You avoid premature oil changes and extend the service life of components by a factor of 3 to 4

You minimize unplanned downtime and ensure higher productivity and process stability
Keeping oils and fluids as dry as possible is the be-all and end-all for reliably functioning machines and stable processes.
Product Benefits — CJC® Desorber

Flexible all-rounder
CJC® Desorber dry any oil and fluid independent from the additive package and viscosity. Optionally with fine filter system for maximum oil cleanliness and oil sensors for integration into your condition monitoring system.

High efficiency
The CJC® Desorber removes free, emulsified and dissolved water from oils and fluids within a very short time – independently, continuously and highly efficiently. For absolutely dry oil.

Easy installation & maintenance
The CJC® Desorber is easy to install and operate. Due to the efficient oil dewatering, the operation without personnel requirements and the low maintenance intensity, it pay-back within the first year.

Economical & ecological
Depth filter made of 100% natural fibres – 0% plastic and 0% metals. High absorption capacities and thus long filter service life ensure excellent price-performance of the CJC® Desorber-Filter-Kombi-Units.
Areas of application — CJC® Desorber
Hydraulic and lubrication systems
(hydrostatic systems, paper mills, biogas plants, steel mills, power plants)

Gearboxes
(paper mills, steel mills, power plants)

Biodegradable Oils, Environmentally Acceptable Lubricants
(PAG, PAO, Ester)

Oil recovery
(processing oil, leakage oil, waste oil, quenching oil after Skimmer)

Marine Applications
(thrusters, pitch propellers, sterntubes, steering gears, stabilizers)
Sizes & variants — CJC® Desorber
The integrated CJC® Depth Filter Inserts
Separation capacity:
Solid particles (wear and impurities)
Water – free and dissolved
Oil degradation products and oxidation residues (Varnish, oil sludge)
Acids
Type of filtration:
Depth filter with extremely high recording capacity
Inner surface:
120—150 m² per gram

The largest depth filter insert has an internal surface of > 2,066 ha = > 2,894 football fields
The smallest depth filter insert has an inner surface of > 5 ha = > 7 football fields
Due to the modular design, the number of various depth filter inserts and thus the holding capacity can be adapted to the individual dirt input.
Volume:
The largest depth filter insert has a volume of > 504 Litres
The smallest depth filter insert has a volume of > 1.5 Litres
Filtration degree:
3 µm absolute, retention rate down to 1 µm (Micrometer)
Filter material:
100% natural fibres – meets the requirements of the Circular Economy Act
For oils and fluids that tend to acidify very quickly, an additional filter material may be used, which increases neutralization against acids many times over.
Best practice examples from the customer's point of view
Find out in our application studies how operators benefit from installing a CJC® Offline Filter.
Hydraulic oil drying with mobile oil care system – Hydrostatic systems

2022-06-16T14:10:58+00:00
"I am completely satisfied with the investment. Oil drying takes place very quickly and without machine downtime. Thus, improves the productivity, allow us to have time to look for the failure cause, to avoid the oil change and waste oil disposal and to maintain the oil quality."
Read customer case
Write or call your regional contact person now
Let us start a conversation. About your machine, your oil and the specific challenges. We dry any oil or fluid – even stable emulsions with a water content of up to 70%. Together with you, we maximize the service life of your lubricant and oil-lubricated components.
Receive a personal consultation and a non-binding offer for a CJC® Desorber for efficient oil dewatering and, optionally for oil cleaning.
Write or call us.