CJC Fine Filter Inserts: depth filter/cellulose filter
CJC Fine Filter Inserts are depth filters specially designed for CJC Oil-Care Systems, which remove due to the unique combination of filter material and filtration type particles, water, oil ageing products (oxidation residues, resins, varnish, sludge) and acid compounds from oils and other operating fluids with extremely high efficiency. CJC Fine Filter Inserts are the only filters in the world that, combined with exceptionally high dirt and water holding capacity, simultaneously minimize all four types of contamination and consist of 100 % renewable raw material.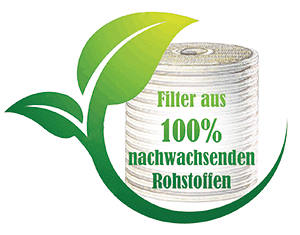 FILTER CAPACITY CJC FINE FILTER INSERTS
PARTICLES
Solid particles are permanently retained between the cellulose fibres. 75 % of the insert volume forms a structure of cavities. The filtration degree amounts 3 down to 1 micron (optional also a filtration degree in the submicron range possible).
WATER
The cellulose fibres absorb free and dissolved water by capillary attraction.
OIL AGEING PRODUCTS
Oxidation residues, resins, varnish and sludge deposit permanently, with a combination of adsorption and absorption, on the polar sites of the cellulose fibres. Cellulose fibres have an inner surface of 120 to 150 m² per gram.
ACID COMPOUNDS
Inorganic acids (nitric acid, sulphurous acid) solve in water are absorbed by the cellulose fibres together with the water. The generation of organic acids is prevented by minimising oil ageing products (precursors).
FILTER MATERIAL AND DISPOSAL
To extract a filter material for simultaneous and efficient removal of particles, water, oil ageing products and acid compounds from oils and fluids, in special selection procedures several different cellulose and cotton fibres are combined for the individual filter insert types. Each CJC Fine Filter Insert is, concerning filter material and design, specially developed and optimised for their application. CJC Fine Filter Inserts consist to 100 % of renewable raw material, and this means protection of resources and the environment from insert production till their disposal (Germany waste product key 150202). Therefore they comply with the requirements of DIN EN ISO 14001:2015 "Environmental Management System" and the life-cycle resource.
Depth filtration principle
CJC Fine Filters are depth filters, i. e. compared to surface filters contaminants are retained in the depth of the filter material. Due to the slow pace of the oil – only possible in an own circuit – and the extreme long filter paths of the depth filters, CJC Fine Filter Inserts are particularly effective. The longer the oil has contact with the filter material, the effective is the fine filtration.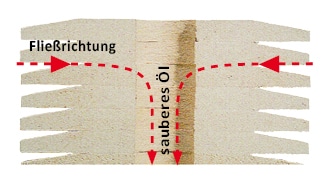 Cross-section CJC depth filter
The oil flows through the CJC Depth Filter radially from the outside to the inside.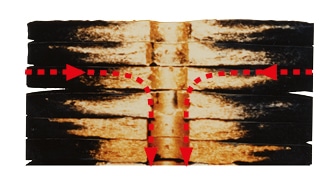 Cross-section of a used
CJC Depth Filter (cellulose filter)