Sustainability begins with the filter! Our filter material consists of 100 % natural fibres.
Fine Filter Inserts from CJC®: your depth filters for the highest oil and fluid cleanliness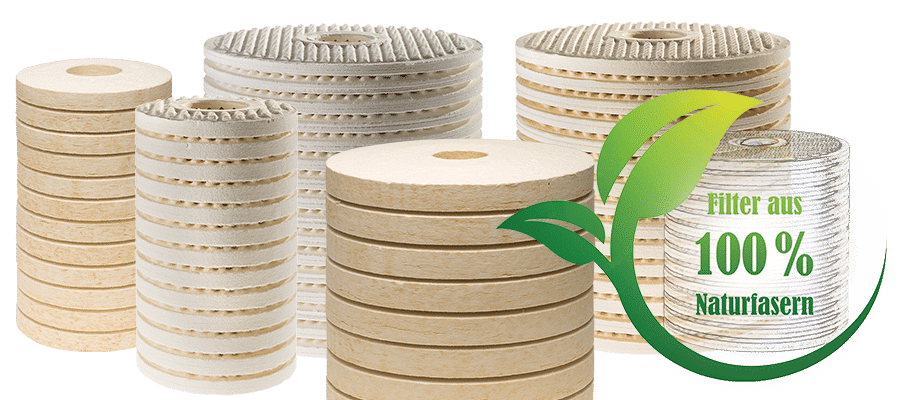 Feinfilter inserts — depth filter and cellulose
Fine filter cartridges specially designed for our oil and fluid care systems that are highly efficient in removing all contaminants from oils and fluids — particles, water, oil aging products (oxidation residues, varnish, oil sludge) and acids. Filtermaterial made of 100% natural fibres. Thanks to the unique combination of filter material and type of filtration, our fine filter inserts offer an extraordinarily high dirt holding capacity and absolute filtration. Heat-resistant, acid-resistant and robust, the natural fibers are also ideally suited for demanding filtration cases. We continuously develop our filter material to achieve the best result: highest oil and fluid cleanliness — efficient and cost-optimal for every application.
How you benefit from CJC® Fine Filter Inserts
You optimally protect your oils and fluids – remove all contaminants and slow down oil aging

Ensure maximum wear protection and preserve the expensive in-line filters

Because of the high filter capacities, you benefit from an excellent price-performance ratio

For filter insert replacement of our fine filter inserts you don't have to take the machine out of operation

Fewer oil changes, fewer failures, lower costs and at the same time resource-saving maintenance
Product advantages — CJC® Fine Filter Inserts

4-in-1 solution
Our fine filter inserts remove particles, water, oil aging products and adcids.

100 % natural fibres
The filter material made from sustainable raw materials preserves resources and the environment — 0 % metals, 0 % chemicals.

Depth filter
Our fine filter inserts are solids that provide an internal surface area of 120-150 m² per gram.

Filter efficiency
The filtration degree of each fine filter insert is 3 μm absolute with a retention rate of up to < 1 μm (submicron range).
Watch our video and gain an insight into our depth filters:
CJC® Fine Filter Inserts
Whether hydraulic, lubricating or gear oil, turbine or compressor oil or extreme cases such as thermal oil, quenching oil, cooling lubricant or gas engine oil — CJC® Fine Filter Inserts ensure the highest oil and fluid cleanliness. Sensationally high dirt holding capacities and excellent separation performance make turn them into an efficient and cost-optimal solution.
Write or call your regional contact person now
Do you have questions about our fine filter inserts, depth filtration or filter efficiency under real conditions? Is your oil or fluid exceptionally heavily loaded and you do not know whether it can be filtered with our fine filter inserts and whether the desired oil or fluid purity can be achieved? Our regional technical contacts are at your side with help and advice.
Write or call us.