Minimize water content, particle content and oxidation levels — in one process
Desorber-Filter-Unit D30CU from CJC®: Your solution for the separation of oil-water emulsions and oil recovery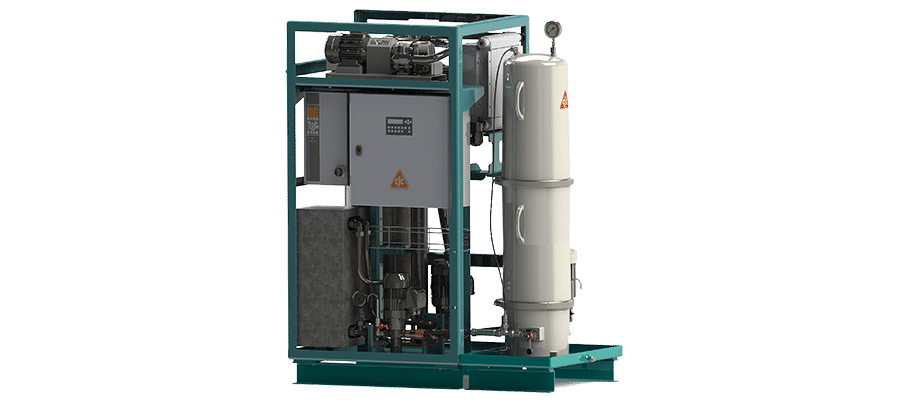 Desorber-Filter-Unit D30CU
The D30CU desorber filter unit quickly and efficiently reduces the water content in your oils and fluids to < 0.01% while minimizing the content of particles and oil degradation products (acids, sludge, varnish). Whether hydraulic oil, gear oil, lubricating oil, machining oil, leakage oil or quenching oil, and whether mineral oil or synthetic fluid, the desorber filter unit D30CU separates even stable oil-water emulsions with a water content of 70% and enables the complete recovery of the oil. The D30CU operates continuously and independently of the operation of the machine in a separate off-line circuit or at a free-standing tank (24/7). The separation of oil-water emulsions is based on the principle of desorption. It occurs independently of viscosity and air content in the oil and has no impact on the additive package.
How to benefit from your CJC® Desorber Filter Unit D30CU
You remove free, emulsified and even dissolved water, separating any oil-water emulsion

You simultaneously remove particles and oxidation residues and thus rejuvenate the oil

You prevent oil ageing, loss of additives, acid formation and the spread of microorganisms

You ensure maximum wear and corrosion protection of the oil-lubricated parts of your machine

You achieve 3 to 4 times longer service life for oil and system components

You reduce unplanned downtime and maintenance costs while protecting environment and resources
Keeping oils and fluids as clean and dry as possible is the be-all and end-all for reliably functioning machines and smooth processes.
Application areas & installation example — Desorber-Filter-Unit D30CU
Especially in the paper, steel, plastics and metal processing industries, as well as in maritime applications, there is a high risk of water entry into the oil systems due to environmental and process conditions.

Fine filter system:
The pump in the oil inlet sucks in the oil. In the first stage, the fluid flow passes through the filter with the integrated fine and depth filter cartridge before it is fed into the desorber chamber in the second stage. Water but also particles in the oil accelerate the degradation of base oil and additives (oil ageing). The filter removes particles and already by oil degradation processes formed reaction products.
Desorber:
In the desorber chamber, the still moist, warm oil meets a counterflow of cold, dry air. The oil heats the cold air, which allows it to absorb a lot of moisture (system pressure constantly low < 2 bar). In a subsequent process, the warm, moist air cools down again, and the water condenses.
Features — Desorber-Filter-Unit D30CU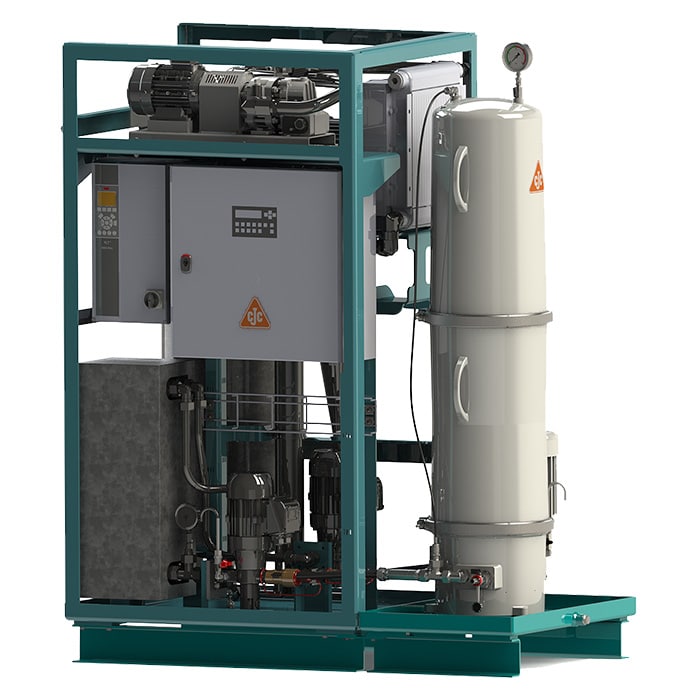 Oil volumen, dimensioning e.g.: 5,000 Litres
Installation: flexible, e.g. in the off-line circuit or on a free-standing tank
Viscosity range: up to ISO VG 320
Water content in the oil, max.: 700,000 ppm (70%)
Water separation: water content permanently < 100 ppm (0.01%)
Dirt holding capacity: up to 48 kg
Filtration degree, max.: 3 μm absolute to 1 μm
Fine and depth filter cartridge: 2 to 4 pieces
Supply voltage: 3 x 400 V at 50—60Hz or 3 x 440/480/575 V at 60 Hz
Power consumption: 3.6 kW
Current: 13.5 A
Capacity (24/7): 250-270 litres per hour
System pressure (suction side), max.: 0.5 bar
Dimensions, L x W x H: 1,300 x 740 x 1,620 mm
Equipment:
Standard:
Pump with motor
electrical control with integrated alarm reporting system (e.g. pressure and leakage sensors)
Leakage monitoring
Continuous air vent
Sample point for oil or fluid analysis
automatic water separation
Optional:
Air, water or coolant cooling
Second filter housing to increase dirt holding capacity
Download product data sheet:
[wpdm_package id="37141″]
All sizes and variants — without and with depth filter


Write or call your regional contact person now
Let us start a conversation about your system, your oil, and the specific challenges. We are your experts for the separation of oil-water emulsions and the recovery of oils and lubricants.
Receive a personal consultation and a non-binding offer for a CJC® Desorber Filter Unit D30CU.
Write or call us.