Maximize wear protection for your machine and change your oil condition-based
Oil sensors from CJC®: Your solution for real time condition monitoring of oils and fluids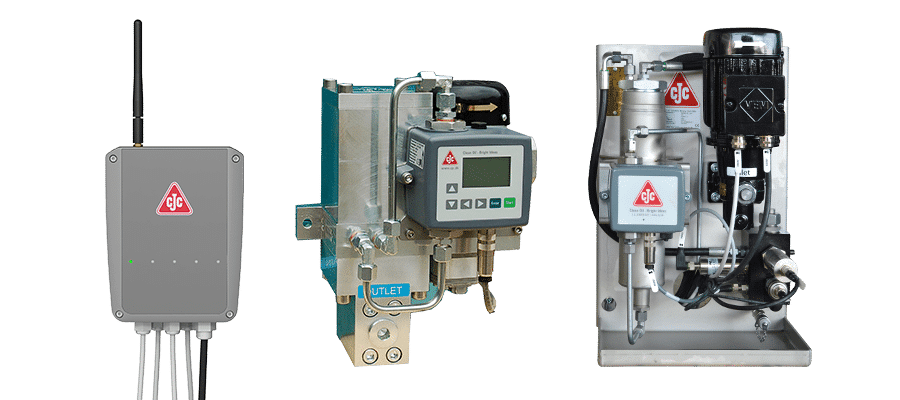 Oil Sensors — Oil Care 4.0
Oil sensors for the online condition monitoring of oils and fluids, which provide you with exact real time data about the oil condition and thus about the machine condition – anytime and anywhere. Individually modifiable thanks to modularly implementable oil sensors and the numerous options from data transmission to automated data interpretation. These are CJC® oil sensors. Intuitive dashboards can be used to define specific limit values for each sensor as an early warning system, so that you can detect deviations in the oil condition values as well as acute wear processes as early as possible and counteract them in good time.
How to benefit from the implementation of CJC® oil sensors
You enable plannable, calculable and cost-effective maintenance

You save yourself unplanned, cost-intensive downtimes and production interruptions

You ensure maximum wear protection and extend the service life of components and machines

You optimize your oil analysis program and change the oil condition-based — not too early or too late

You reduce administrative effort

They document the manufacturer's required oil purities for sensitive components and thus secure warranty claims
Did you know that …
70 to 80% of all failures in hydraulic and lubrication systems are due to impurities in the oil?
This means ensuring the highest fluid and oil purities is your key to machine reliability, productivity, process reliability and a fast return on investment.
Oil sensors for exact condition monitoring of oils and fluids
Information about wear particles, relative humidity, oil temperature, oxidation rate and filter condition values is crucial for you to avoid abrasive wear, cavitation, corrosion, viscosity changes and loss of lubricating properties? With CJC® oil sensors you optimize your maintenance.
Oil sensors with oil care system or self-sufficient
Oil condition sensors and particle analyzers can be quickly and easily retrofitted to any CJC® oil care system. Or as a self-sufficient condition monitoring system with its own pump unit, it can be installed in an independent circuit. With exact monitoring of the oil condition and continuous oil care, you ensure the highest oil and fluid purities in the long term and thus maximum wear protection and maximum oil service life.
Write or call your regional contact person now
Do you have questions about our oil sensors or about condition monitoring of oils and fluids and their advantages in general? Would you like to know whether the data can be transferred to your existing system? Our regional technical contacts are at your side with help and advice.
Write or call us.